The Shelbourne Community Kitchen is located at
101-3787 Cedar Hill Rd
in the ground level of Lutheran Church of the Cross. We have our own dedicated entrance, located on the north side of the building on Cedar Hill Cross Road. 
Look for the bright pink doors, just down the hill from the intersection. 
Monday: Closed
Tuesday: 10:00AM – 1:00PM
Wednesday: 10:00AM -1:00PM
Thursday: 3:30PM-6:30PM 
Friday: 10:00AM-1:00PM
Saturday: Closed
Sunday: Closed 
End of Month Closures: 
We close for the last week every month to tackle large projects. It's typically the last 4 days of operations. Please call us at (250) 590-0980 and listen to our voicemail for schedules.
Important Note: Effective June 1, 2023, we are not registering new participants for our programs until further notice.  Learn more
For information about the Pantry Program and to register as a member, please contact: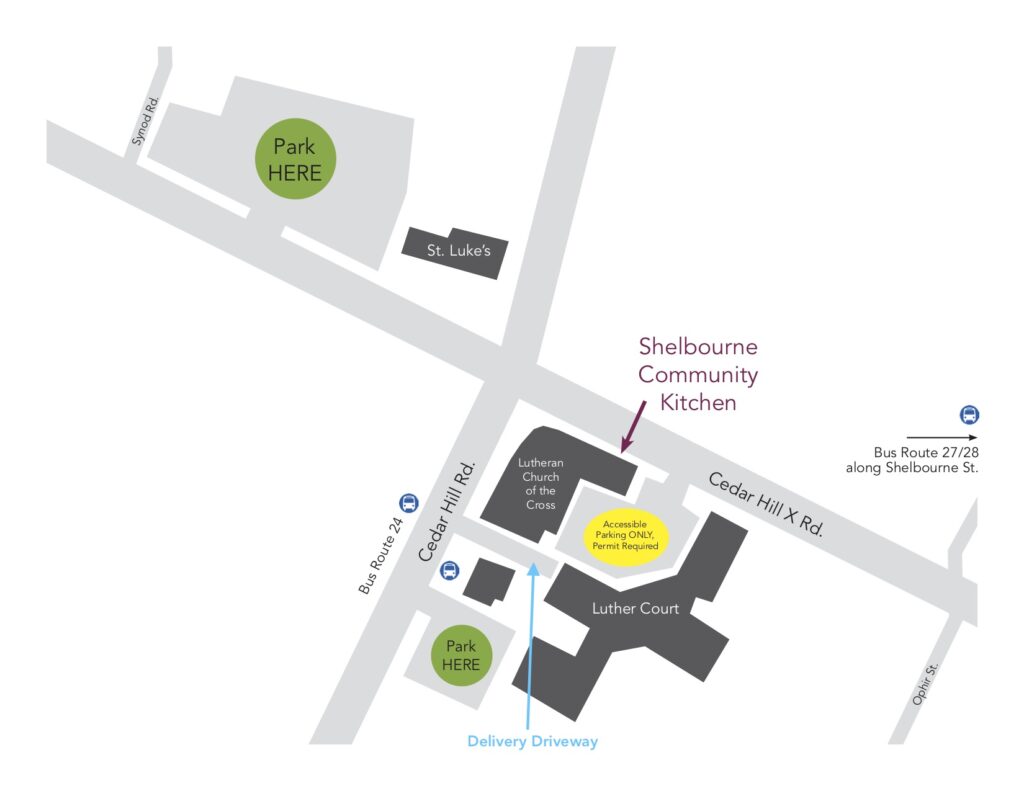 WHERE TO PARK:
St. Luke's Parking Lot: on the opposite side of the intersection. Spaces are undesignated, and you are welcome to park in any available spot.
Lutheran Church of the Cross Parking Lot: located on Cedar Hill Rd. There is a little house between the church and the parking lot.
Accessible Parking Only: Luther Court Parking Lot on Cedar Hill Cross Rd. General parking is not permitted here, but we have communal access to the designated accessible parking. Please make sure your accessible parking pass is visible.
BUS ROUTES:
Our new home is located just off of the #24 bus route. This bus goes up Cook Street and along Cedar Hill Rd.
We are also be accessible by the #27 and #28 buses that run along Shelbourne St.

It is a 2 block walk from Shelbourne Street to our door.
COMMUNITY TOURS 
If your business or community group is interested to learn more about the work we do and how to get involved, let's get together. At the end of every month, our team hosts a community tour and information session.
This is a great opportunity to meet our team and gain a greater understanding of the work we do and the core values that guide our efforts.
Please stay tuned for a listing of upcoming community tour dates and registration links soon.
FACILITY RENTALS  
We do not have a facility rental program established at this time. Please check back later this year as it's certainly part of our future plans!