BRING HOME THE KITCHEN
Capital Campaign
Did you know that our new location doesn't have a kitchen yet? We couldn't afford all of our renovations at once, so the project was divided into two phases: phase 1 brought the facility up to code and Saanich bylaws and set us up for the most basic operations. Phase 2 is the commercial kitchen along with accessibility upgrades and dining room/meeting space.
Our current layout and designation with Island Health significantly limits our programs and services. We need a place for our participants to cook together in- person, to serve prepared foods to our members, to host canning and preservation workshops, to allow in-house cooking programs and to allow for member engagement. What we are permitted to prepare in the space now is  hampered by cooking equipment that is not functional, as well as no exhaust or fire suppression systems.
Online programs are great, but they alone can't replace the positive impact that comes from learning and cooking alongside your friends and peers, or the nourishment that comes from sharing a healthy meal at the dining table.  Building community through healthy food requires spending quality time together, both in The Kitchen and around the dining table! With a functional commercial kitchen of our own, we could do so much more to serve our community. It's time to bring The Kitchen home and bring the Cook back in Cook, Grow, Share and Connect!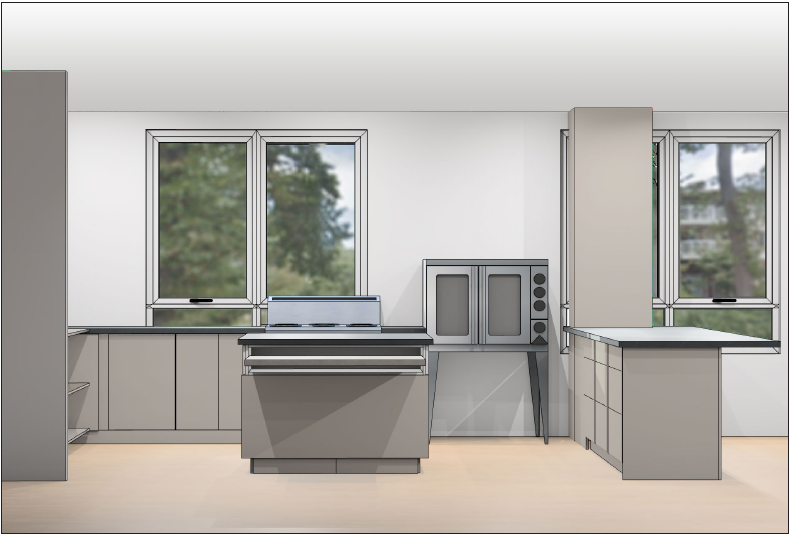 WHAT A NEW KITCHEN WILL DO
RETURN OF IN-PERSON COOKING AND FOOD SKILLS PROGRAMs
Building skills and cooking meals together is where the magic happens at The Kitchen. We have not been able to cook in-person together since 2020 due to covid-19 and our subsequent move!
Community meals to address social isolation and improve health
CREATING LEADERSHIP AND WORKPLACE TRAINING OPPORTUNITIES FOR OUR PARTICIPANTS
Offering workplace training, and leadership opportunities to build skills and hopefully get more income into the pockets of our members
Community meals to address social isolation and improve health
COMMUNITY MEALS TO ADDRESS SOCIAL ISOLATION AND IMPROVE HEALTH
Community meals create opportunities for people to share meals together, helping  to reduce social isolation, and increasing access to nutritious meals. 
Community meals to address social isolation and improve health
THROUGH RENTALS THE COMMERCIAL KITCHEN WILL PROVIDE ONGOING OPERATIONAL INCOME
It will be an accessible resource for small-businesses and community groups who require commercial kitchen space (something that is in high-demand in Victoria!).
Community meals to address social isolation and improve health
COMMERCIALLY PRODUCE IN-HOUSE FOR OUR PANTRY PROGRAM AND RAISE REVENUE
Will allow us to meet more of our own Pantry Program needs while helping to reduce food waste. We can't wait to stock the Pantry shelves and fridges with our own healthy, homemade offerings. 
Community meals to address social isolation and improve health
TOTAL CAMPAIGN GOAL: $387,000
Percentage Already Raised
64%