The Pantry Program offers fresh and dignified food distribution and grocery gift cards for hundreds of families and individuals every month. The Kitchen's Pantry Program was the very first self-select food distribution program in Victoria (back in 2015) and we continue to run on systems that are founded on dignity, choice and respect. Our focus is providing healthy, high quality food and household supplies that easily accommodates for cultural food preferences, dietary restrictions, food allergies, and/or limited access to cooking facilities.
Like all of our services, the Pantry Program is dedicated for people who are living on low income.
Individuals need to register as a member of The Kitchen to begin accessing this service.
IMPORTANT NOTE: the Shelbourne Community Kitchen is currently over capacity and will not be registering new participants for our programs effective June 1st, and until further notice.  Learn more.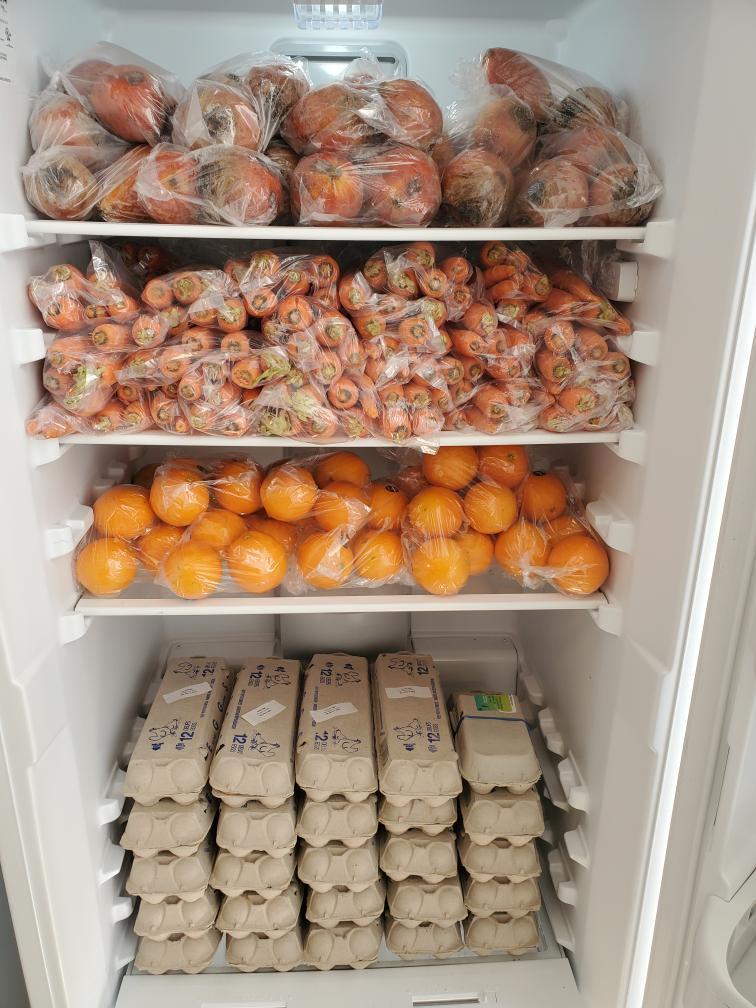 The Grocery Program is available for participants to access once a month.
Participants choose the items that they receive.
The program focuses on healthy food choices, with accommodations for families and people with dietary restrictions and food allergies whenever possible.
Offerings include fresh seasonal produce, proteins, healthy pantry staples, toiletries, menstrual supplies and other helpful items.
To access the Grocery Program, participants call, or visit in-person during hours of operations to place a grocery order.
After placing a grocery order over the phone, participants come to the Kitchen on the same day for a contactless grocery pick up during hours of operation.
No-contact home delivery is also available for people who are immuno-compromised, have physical mobility barriers, or are self-isolating. Requests for delivery must be placed on Tuesdays and Thursdays. Deliveries are made on Wednesday and Friday afternoons between 12pm-3pm.
Participants may access the Grocery Program for as long as they require the service.
To help purchase items that may not be available through our Grocery Program, the Voucher Program offers a monthly grocery gift card for up to a year.


There is currently a waitlist for this program.
Grocery gift card amounts are $10 for individuals with no dependents and $20 for individuals with dependents under 18 years of age.
The length of Voucher Program registration is limited to 12 months. Once registered, participants can access one monthly grocery gift card, during Grocery Program access.
Each participant may register only once for the Voucher Program.
Unclaimed vouchers cannot be claimed at a later time.
IMPORTANT NOTE:

effective june 1,2023, we are not registering new participants for our programs until further notice. Learn more.
STEP 1:
Register to Be a member
Regardless of whether you want to sign up for a program or become a volunteer, the first step is to register as a member. 
Becoming a member is a simple process. 
Visit us in person during hours of operation.
Review and agree to abide by our member code of conduct.
Fill out a short membership form. No ID or proof of income is required. 
As a member, you are part of our community. You can access programs and services, volunteer, vote in elections and help to inform our work!
STEP 2:
SIGN up FOR A PROGRAM
As a registered member of the Kitchen, you are welcome to access any program and service we offer.
Program information and schedules are shared through monthly member emails and in person at our main location. You can call us too!  
To sign up for a specific program or service, simply contact our team. 
If a program is full, we will let you know when a space becomes available.