It's true when they say that home is where the heart is. Since our first grand opening in March, 2015, The Kitchen has been a warm and welcoming place where healthy food and community can be found.
The Shelbourne Community Kitchen's first ever central location was a 3-bedroom bungalow, located in a residential zone on Shelbourne Street. In the 1,000sq ft rental house, bedrooms were converted into an office, storage and our pantry room. With help from EB Renovations and Rekindle Designs, we renovated the kitchen to support group cooking programs and patio doors led out into our backyard garden where we grew food for programs and and shared meals. The little white house was a perfect start-up home for a new organization like ours, and from 2015-2021, 3541 Shelbourne Street was where our community and all of our programs were established. The Temporary Use Permit with the District of Saanich that allowed us to operate in a residential zone allowed for a maximum of 6 years. By that time our organization and community had grown substantially and it was time to find a larger space. 
During the final years at 3541 Shelbourne Street, limited storage space hampered program growth. Founding Partner Organization, Lutheran Church of the Cross, generously offered a 2,000sq ft portion of their building for the Kitchen to set up a Temporary Food Storage Facility. With incredible support from Cascadia Architects, Integral Group, WSP Engineering, and Glyph Redesign, the Food Storage Area played a vital role in our organization's ability to increase our capacity and streamline operations. The space includes a 8 x 12 mobile walk-in cooler, freezers, donation processing area and ample shelving. The Food Storage Facility at 3787 Cedar Hill Rd was completed in August, 2020, as was essential during the COVID-19 pandemic.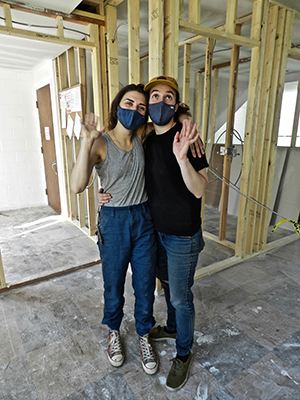 Our team searched for two years to find a larger facility that would meet our program needs and budget constraints. Near the end of 2020, an exciting space became available in the same building as our Food Storage Facility! We signed a 10-year lease with Lutheran Church of the Cross, for the space previously occupied by a daycare. The space came along at just the right time, and had great potential. It would also require significant renovations in order to meet our program needs as well as Island Health regulations for food premises. Renovations were parceled into two phases as we could not afford the project all at once.
Phase 1: 
Phase one renovations included flooring, walls, electrical, plumbing and the dish washing area. We are forever grateful to Banyan Group Construction and Craig Thomas who donated their time to manage our renovations, as well as the many businesses who generously donated time and materials in support of the project. Phase one renovations were conducted throughout the spring and summer of 2021, with full occupancy received from the District of Saanich in October, 2021. The new space is warm and inviting, with extra space for our growing programs and membership. While there is no on-site garden space, the Kitchen established a growing site across the street as well as a partnership with Omnivore Acres Farm in Saanich. 
Phase 2:
Our plans for Phase two renovations include an exciting accessible commercial kitchen where in-person cooking programs will be held, community meals will be served, and facility rentals will diversify income streams. Accessibility upgrades are also planned for the washrooms of offices. Our building permit application is currently in development, with fundraising and a capital campaign coming soon.